Meal Choices can be added to your Registration Form. The results will appear in the Attending list, and a Meal Report will be listed in your Reports. You can edit Meal Choices from the [ V ] menu next to any registrant's name or from Custom Report Builder in Reports & Exports.
Adding Meal Choices
From the Event Dashboard, scroll down to Edit Event Details, or choose Event Setup in the Event Tools menu, then select Event Details.
Scroll to the bottom of Event Details.
Click the slider to turn on Meal Choices.
Add your meal options and their descriptions
If you change your meal options here, it will automatically change the meal options on the Registration Form and in your registrant's records.
Deleting an option will delete the option and the record altogether.
Turning off Meal Choices will remove them from the Registration Form, but it will not delete the information stored for your registrants.
Next, the fields need to be added to your Registration Form. If you are familiar with using the Form Skeleton, you'll find meal fields in the preset list for both the first registrant and their spouse. Ministry Sync Support staff will be happy to add your meal options to the Registration Form for you.
Editing Registrant's Meal Choices
Edit an individual's Meal Choice or dietary requests from the [ V ] button next to their name in their group. To make it easy to find the person, use the spyglass in the lower part of the left toolbar. Like this: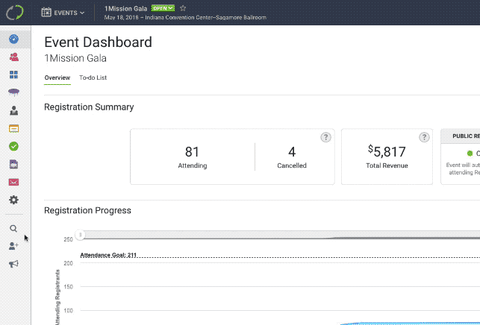 Find the person in their group or in the Attending list and click the [ V ] to open the menu.

Choose Edit Meal Choice.


Select the meal choice and/or edit the Dietary Restrictions and then click Done.
A notification will appear in the right corner to verify your changes were saved.
Editing Meal Choices from the Custom Report Builder
You can edit the Meal Choices for larger groups of people from the Custom Report Builder in Reports & Exports.
Click on Reports & Exports in the Event Tools menu
Choose Custom Report Builder.
Click Change Columns above the search results.
Scroll to the Registration Information section and click the checkbox for Meal Choice. If you collected information on Dietary Restrictions, choose that as well.

You won't need individual options for each spouse or for other people's meals. One meal choice checkbox will bring in all the choices for all your registrants.
Scroll to the bottom and click Continue.
On the next page you'll see the search results, updated with the meal options.

To edit them, simply mouse over and click the yellow field.

The meal selection pulldown will appear.
Make your selection. It will save automatically.